my name is denise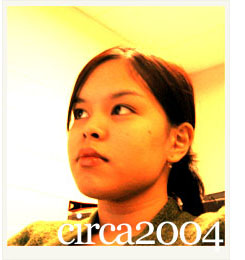 I am currently a student at Ryerson University enrolled in the School of Graphic Communications Management. In approximately two months, my life as a student will be history, and that scares me. The picture of me you see on the left was taken about five years ago. I still look like that so I figured, "that's legit." Anyway, I'm not an autobiographer, so I'll sum it up for you:
God + design + tv + music + school + movies + regret + minced garlic = yours truly
Give me a holler!
the site
This site is my virtual repository for some of my thoughts. It is loved and abused, and is graciously hosted by Kenneth. I've had this site since 2005, I have been blogging since 2001 and have been web-designing since 1999. That, my friend, is the recipe for lifeless.